We are going through some tough times right now due to the COVID-19 pandemic spread around the globe. Many organizations are enacting remote working policies to provide social isolation to ensure business continuity. According to a Gartner Inc. study, nearly 50% of organizations reported 81% or more of their employees are working remotely during the coronavirus pandemic.
This is also true for my own particular case. In Onebox TDS, we already had the option to work from home once a week before the confinement. Now, we're working 100% remotely and, even though we already had the tools and infrastructure ready, we've faced some new challenges.
One of the challenges we've recently faced was running remote product workshops. We used to schedule this kind of meeting (Project Kickoffs, Design Sprints, CoPs, Ideation/brainstorming workshops…) for days in which we knew everyone could be at the office, so we took advantage of the benefits of the in-person meeting. And now what?! 🤔
In most cases, we couldn't defer this workshops, neither make them face-to-face. How did we succeed? First, we facilitators, adjusting the exercises and timings and, secondly, relying on some online tools that helped us to accomplish our goals. Here I want to share with you the main 3 tools to run remote product workshops we used in the last weeks.
Google Jamboard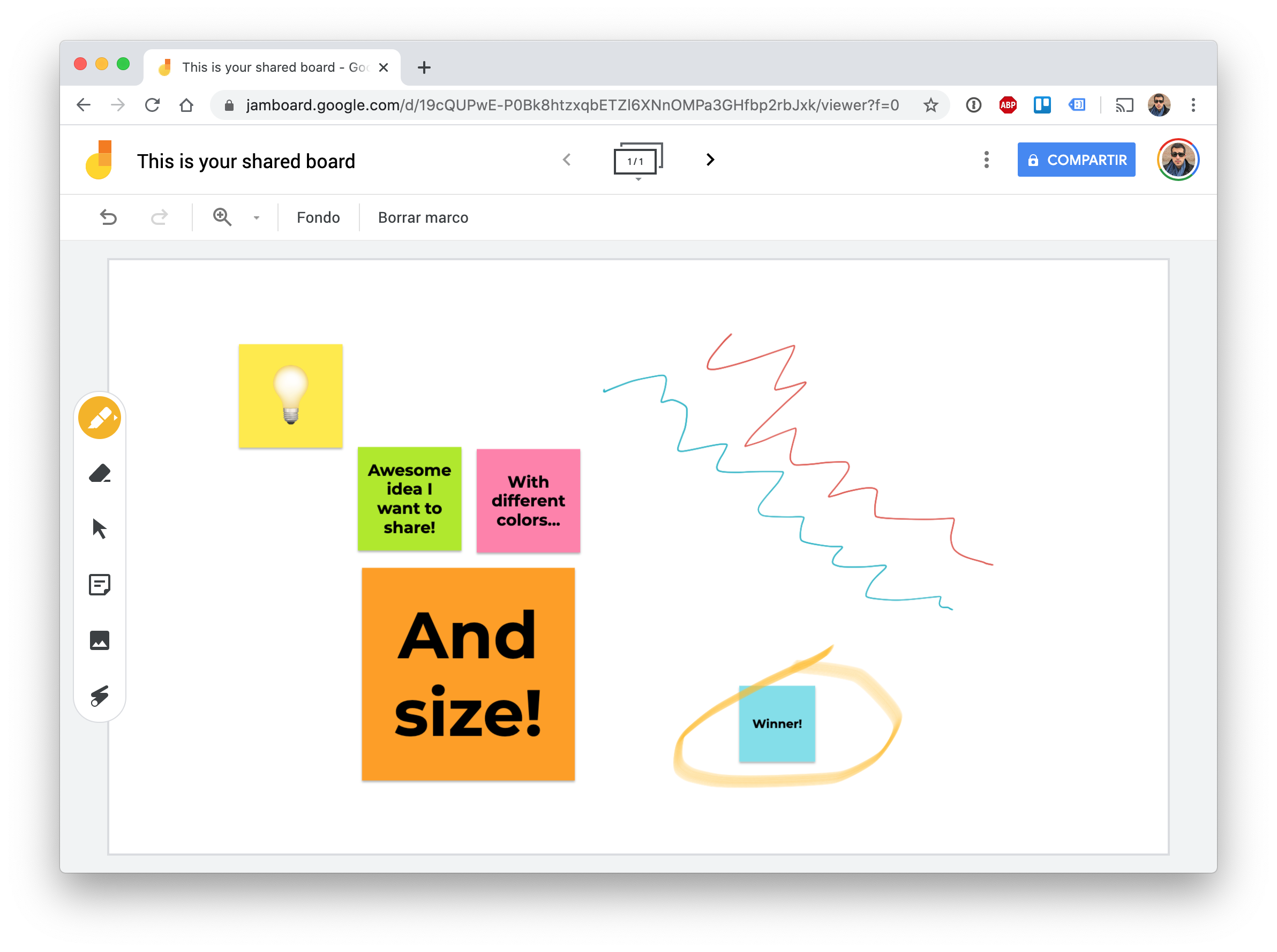 At first sight, Google Jamboard may seem yet another online whiteboard app, but it has a few key features that make all the difference:
Easy to share. For a company that already uses G Suite (email, calendar, docs, sheets, slides…) as a central tool, sharing a jamboard couldn't be easier. Just click on the top-right Share button and type your co-workers' name or email address.
Google Images. Most online whiteboard applications let you upload an image to the canvas, but in Google Jamboard you can add an image directly from Google Images. So, you skip the tedious task of searching the image in another browser tab, download it and then upload it into your whiteboard.
Laser. Imagine you're sharing your screen while explaining to your colleagues something like «when you click on this button I'm showing to you guys…». And suddenly someone says: «Gabi, we're not seeing your mouse cursor». 🤦🏻‍♂️It happens to me more often than I would like to admit! The jamboard's laser feature allows you to "temporary" draw on your canvas, which is really useful to discuss anything is already on your board. Here an example: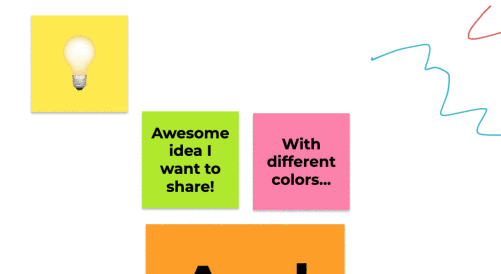 Sli.do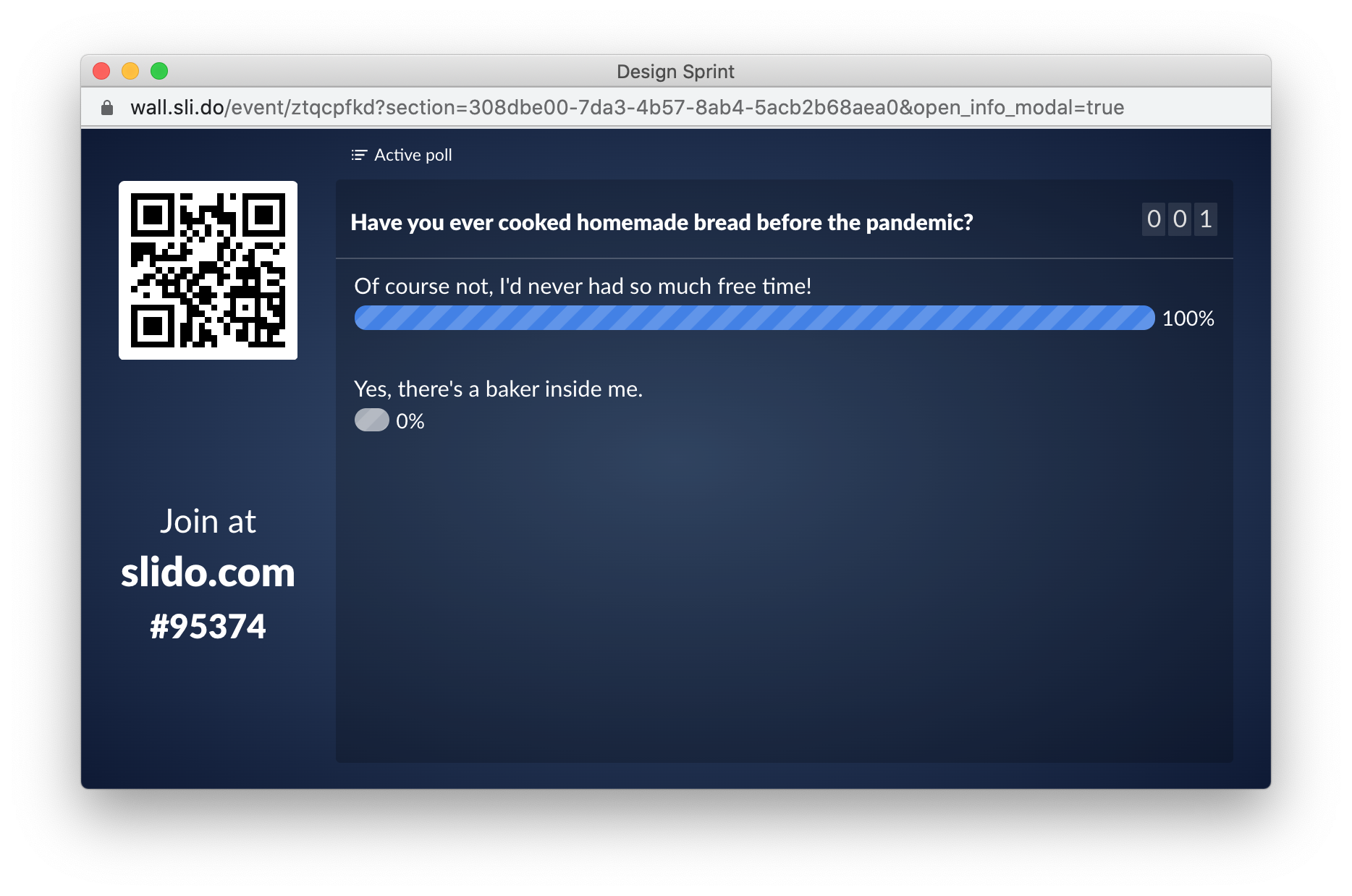 Sli.do's motto is The ultimate Q&A and polling platform. I've discovered it when attending an online Product Meetup. The very first thing the speaker did was to share a QR code, asking us to scan it and answer a question before starting the talk. It served as an icebreaker for the talk (you can ask anything you think could be funny to the audience) and also gave a few extra minutes to people running late to the meeting.
But, what I want to highlight from the tool was the live polls feature and, particularly, the outstanding way in which sli.do shows the results in realtime to every participant. I call this "creating the wow effect". 🙂
DailyToast.io

Last but not least, DailyToast.io. Without any kind of doubt, the funniest online timer you can find on the Internet, made by Barcelona's FailFast Design agency. I'm sure you have one or two long-winded coworkers in your team, these guys who tend to talk a little bit too much. You, as a facilitator, know how important is to manage time effectively in meetings, and the timer is your best sidekick.
When in-person, I love to use the physical Time Timer setting 3 or 5 minutes for each participant to show the others his/her conclusions or opinions on the topic. At first, I started using e.ggtimer.com because you can easily set the countdown directly from the URL but when I discovered dailytoast.io, it won my heart.
Final thoughts
I hope these 3 tools for running remote product workshops will be helpful to you, as much as they have been to me. As a disclaimer, this is not even close to a sponsored post (to be honest with you guys, I can't reach –yet– a big-enough audience to be interesting to any brand 😝), so the recommendations are real and based (also biased) on my own experience.
Remember this (tl;dr)
If you're running any kind of workshop remotely, give a try to the following tools:
---
References and links